The Retail Liquidations—Neiman's, J.Crew, Pier 1, More—Are About To Start Flowing
By Warren Shoulberg Senior Contributor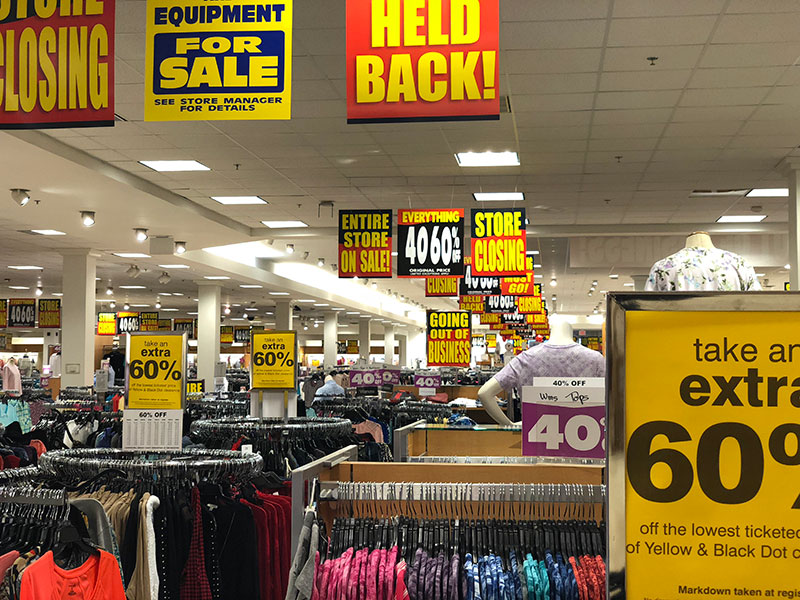 Maybe liquidation-a-go-go is too flippant for such a tragedy. But it does fit.As the number of retail bankruptcies start to pile up from companies whose final destruction was caused by the coronavirus pandemic, we are about to see a massive round of close-out/going-out-of-business/liquidation sales. It's likely to be the largest such wave in modern retail history.Already, the list of stores waiting to get started is pretty long: Neiman Marcus, J. Crew, Pier 1, Modell's, True Religion, Roots and John Varvatos. They could be joined by Lord & Taylor, Sur La Table and, if things continue to go badly, J.C. Penney. Others are no doubt waiting in the wings.

Much of this, of course, is the result of the unprecedented shutdown of physical retailing over the past two months due to the pandemic. For companies that were teetering on financial ruins before this – due to too much debt, too little merchandising smarts or some combination of the two – COVID-19 was the final straw.

Add to them the retailers that filed before the crisis began and those that will struggle once they reopen and find they can't make it and there will be literally thousands of stores with billions of dollars of merchandise that needs to be disposed of cluttering up the retail landscape throughout the summer and into the fall.

Couple this with functioning retailers trying to clean out the goods that have been sitting in their closed stores for two or three months and the off-price retailers who are expected to be able to access enormous amounts of merchandise stuck all throughout the supply chain pipeline. It's going to be a feeding frenzy for shoppers—and a blood bath for margins.

And all of it has been on hold as long as the physical stores were closed. You can't dump inventory online the way you can in physical stores, which is one reason why we may not have seen the totality of the bankruptcy filings. There was no sense of urgency to do so as long as stores were closed. Now that they are starting to reopen, the rush will be on to get to the consumer's pent-up buying demand as fast as possible and before everyone else.

The retail liquidation business in America these days is a somewhat odd, somewhat complicated process. Retailers who file bankruptcy need to dispose of the merchandise in their stores whether they are completely shutting down or just restructuring, intending to stay in business once they emerge from the Chapter 11 proceedings. Either way, they are trying to raise money to pay off creditors, lenders and anybody else with their hands out—usually attorneys, bankers and consultants.

But these days, particularly in out-and-out liquidations, these sales are handled not by the existing retailer, but by a third party that specializes in such things, firms like Gordon Brothers and Tiger Capital. And under the rules of bankruptcy they are allowed to bring in additional merchandise to sell that has nothing to do with the goods the store itself sold while it was operating. Sometimes as fast as the sales are rung up at the front of the store, the tractor trailers are unloading new stuff at the back, insuring a constant flow. And even if the defunct retailer was known for its sales or coupons or whatever, the liquidation is handled under a different promotional schedule. Often the margins are pretty good. Sometimes they are outstanding, better than anything the retailer ever did in its regular operations.

And it's all about to begin any day now.