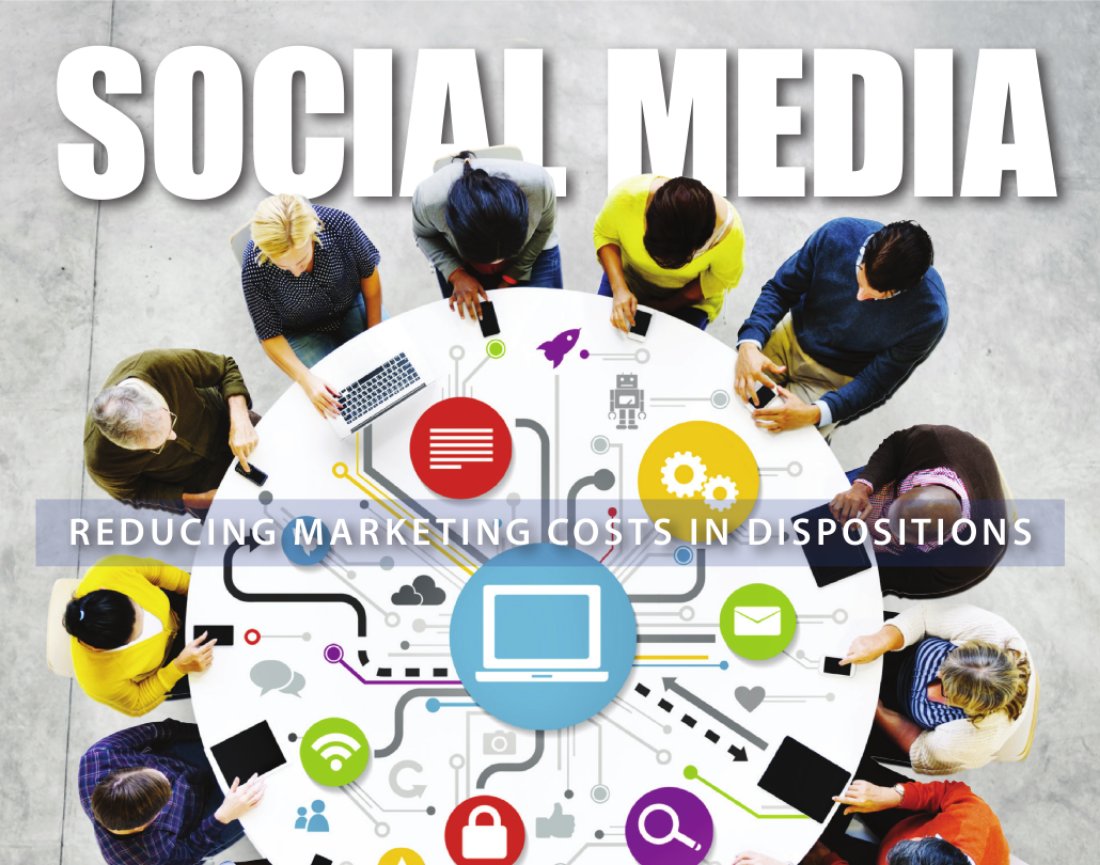 In the past, appraisers used basic principles such as comparative sales and market trends to place values on a collective of assets. Then, liquidators entered the picture, and the Net Orderly Liquidation Value (NOLV) model moved things in a far more sophisticated direction, with the actual costs associated with selling through those assets becoming the great variable. Achieving the highest NOLV means creating financial models in which assets are quickly converted to capital with the lowest possible four-wall and marketing expenses.
While there may be little wiggle room in occupancy, payroll, and other four-wall expenses, marketing costs in liquidations can vary significantly. It's true that internally generated email lists and signage prove to be very effective at getting the word out for a sales event – but in today's world, increasing sales capacity also means taking advantage of social media.
Take consumer goods as an example. If I were advertising a retail disposition, even just five years ago, I would create a budget by isolating markets, determining demographics, and matching the ideal shopper with their preferred outbound media – typically print and specific electronic programming based on Arbitron and Nielson ratings.
How things have changed. Traditional media such as print and broadcast outlets have consistently lost audiences and fallen out of favor with advertisers, thereby making them a secondary choice when overseeing an asset disposition. According to the Newspaper Association of America, over the past 10 years, the newspaper industry has contracted by over 50%. Moreover, the US Postal Service reports that first-class mail volume is down by 28% over the same ten-year period. Television, once the second-most powerful way to get shoppers into stores behind signage programs, now faces an increasingly fragmented audience watching hundreds of cable channels, competition from streaming services like Netflix, and viewers racing through commercials with their DVRs.
The cause of this churn is also the cure: the Internet. Want to reach a specific subset of tweens? Instagram is the hot distribution channel. Need to speak to women aged 25 to 34 within 10 miles of a store? Facebook, Twitter, Vine, or Pinterest ads cost a fraction of those in traditional media, and offer the added benefit of social sharing: The intended audience passes on the message to other prospective buyers. Additionally, most of these networks allow users to share videos, thereby enabling advertisers to use the power of sound, storytelling, and movement that once made television so dominant – all without prohibitive network or cable placement costs.
Any modern campaign also needs to incorporate mobile formats such as smartphones and tablets. The technology is breathtaking – your smartphone has more computing power than all of NASA during the Apollo missions. As a result, the mobile channel is now the third largest individual advertising venue, trailing only television and desktops/laptops, but surpassing newspapers, magazines, and radio, according to Emarketer, Total US Ad Spend (July 2014).
So what does this mean when modeling costs of a liquidation event? If the media plan in a disposition doesn't include mobile advertising, the event won't attract customers to its full potential, which will be reflected in the NOLV.
If a liquidator effectively incorporates social media in the marketing portion of a liquidation model, the NOLV will likely approach an attainable, best-case level. But the NOLV will invariably suffer if the liquidator bases a marketing plan on outdated assumptions and costlier, less-efficient media.
Social messaging and distribution opportunities also exist when selling through industrial and commercial assets. LinkedIn is more than a way for your college buddies to track you down: Professional groups that share identical interests dot the LinkedIn landscape. Using LinkedIn, marketers can send information about upcoming industrial equipment auctions – as well as related wholesale opportunities – directly to potential buyers pre-qualified by their professions, vertical expertise or categories of assets they may be in the market to purchase.
Like traditional media, the Internet is simply a method of distributing a message. But, because it allows for such targeted, precise advertisements, it tends to be more cost-effective than incremental methods such as print and broadcast. Viable revenue models are just now coming into play. What really sets it apart is the format's ability to effectively target prospects and create immediate interactions between parties.
The Industrial Revolution caused all kinds of disruption. Certain skills became obsolete and jobs were lost. But smart businesses adapted and ultimately thrived. The same is true of the Information Age and how it has affected sales methodologies – and, by extension, how smart firms handle asset dispositions and appraisals.
Social media is a proven, powerful, and efficient method of distributing messages to highly categorized groups of buyers. The effectiveness with which an appraisal firm approaches these new technologies can have very real consequences on the appraised NOLV. To ignore these tools is to surrender value to obsolete methodologies.
This article originally appeared in the ABL Advisor.