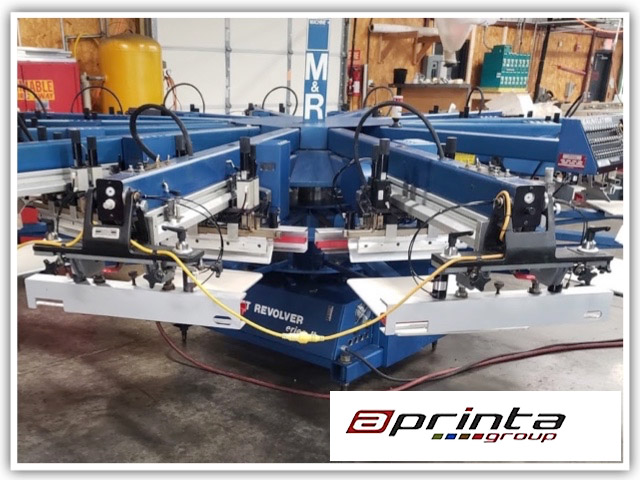 Tiger Group Online Auction Features Equipment for Screen Printing and Premium Promotional Manufacturing
Tiger Group began accepting bids on September 15 for an online auction of hundreds of pieces of equipment used for screen printing and manufacturing apparel and premium promotional products.
Online bidding at SoldTiger.com commenced on Tues., Sept. 15, at 10:30 a.m. (EDT) and closed on Tues., Sept. 22, at 10:30 a.m. All bidders were required to register prior to the sale at SoldTiger.com.
On offer were assets surplus to the ongoing operations of Aprinta Group—a well-known textile and premium products manufacturing and embellishment company, said John Coelho, Senior Director at Tiger Group.
According to Coelho, highlights of the online auction included: screen printers by M&R; dryers and flash-cure units by M&R, BrownDigital FireFly and other brands; commercial pad-printing equipment; an Amscomatic shirt-folding machine; an HP Indigo digital printer; extrusion machinery by HPM; Stamperia Emilina finishing equipment; knitting machines by Protti, Steiger and Lamb, and
material handling equipment from Crown, Raymond and other manufacturers, including reach trucks, forklifts and walk behind pallet jacks.
"In addition, the assets on offer here include a vast trove of blank promotional product inventories," Coelho noted. "It's thousands of items such as flashlights, perfume bottles and nearly 1 million gel and ballpoint pens. Mostly all are clean case goods."
The diversity of the sale owes to Aprinta's multiple lines of business, Coelho said. "The company used these assets to knit, cut and sew, and fold garments, and others to fill and label promotional perfume bottles as part of its own production line," he explained. "Aprinta even extruded parts it needed to make some items."
Other categories included: digital printing equipment; sign-making and paper-cutting machines; fabric cutters and inspection machines, and other assembly and production assets.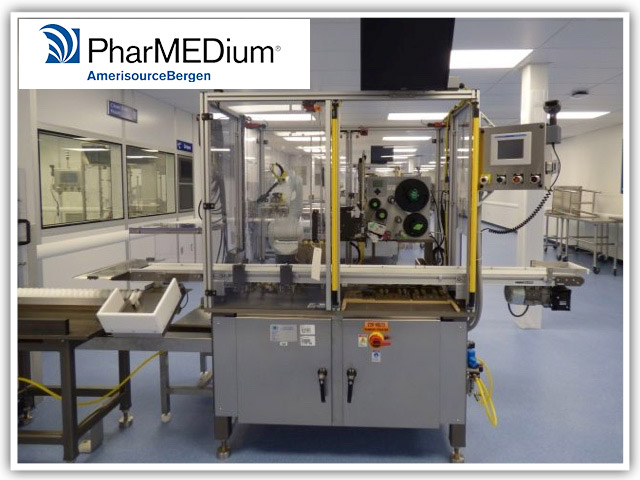 AmerisourceBergen puts former PharMEDium Memphis facility and equipment up for sale
A specialty pharmacy facility's building and its equipment — set to close this year — are up for sale.
A spokesperson for AmerisourceBergen Corp. confirmed its former PharMEDium operations located at 6100 Global Dr. in Memphis is for sale.
CBRE Memphis is listing the property, and a representative of that firm said the sale list price is $5 million.
Boston-based Tiger Group, in partnership with Liquidity Services and Perry Videx, is marketing the equipment for sale from the Memphis facility, as well as PharMEDium's former Texas facility.
"In addition to industry-specific compounding and syringe-filling applications, the assets in the two facilities offer compelling opportunities for laboratories, and a wide range of manufacturing, warehousing, and distribution, and office markets," John Coelho, senior director at Tiger Group, said in a release.
According to Shelby County property records, the 122,000-square-foot PharMEDium facility was built in 2008 on land the company acquired in 2007 for about $2.8 million.
Since 2008, a total of $4.3 million in additions and improvements have been made to the facility, based on building permits filed with Shelby County.
In February 2020, AmerisourceBergen Corp. — a Fortune 500 company — filed a Worker Adjustment and Retraining Notification Act (WARN) notice for its PharMEDium business in Southeast Memphis.
AmerisourceBergen announced in January 2020 its intention to close the facility in Memphis. It had been idled in December 2017 due to needed remediation efforts to meet U.S. Food and Drug Administration (FDA) requirements.
Over the first six months of 2018 alone, AmerisourceBergen spent $38 million on remediation efforts at the Memphis facility due to drug recalls related to sterility concerns.
PharMEDium made compounded sterile preparations (CSP) of drugs in doses not commercially available, and at one time, employed more than 400 people in Memphis. More than half those workers were laid off in January 2019.
The WARN notice in early 2020 noted the remaining 167 PharMEDium workers in Memphis would be laid off, beginning April 20.
On AmerisourceBergen's earnings call Jan. 30, 2020, CFO Jim Cleary, said the PharMEDium business was not sellable due to "ongoing regulatory challenges; continued operational issues; continued challenges to keeping the remediation timetable, which was extending; and the continued financial burden of running the business."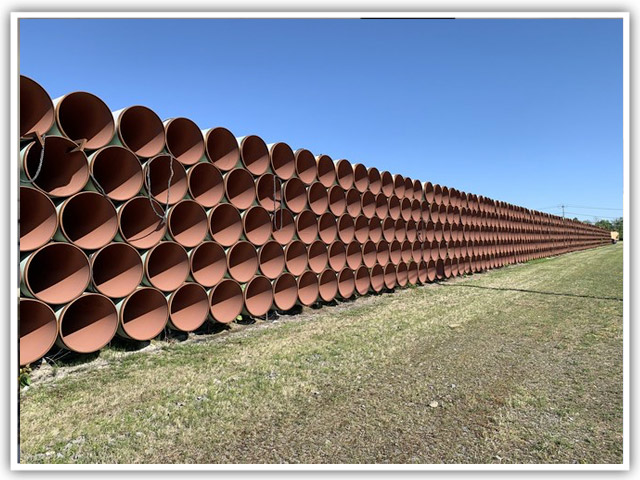 Massive Inventory of Line Pipe Now Available From Tiger Group and P.I.T. Pipe
High-quality, never-used pipe is ideal for use in water-transmission, heavy construction, and the oil and gas sector; all inventory made in the United States.
More than 500,000 feet of 30-inch, X70, coated line pipe is now available for immediate purchase from Tiger Group and P.I.T. Pipe.
The never-used, top-quality inventory, stored at an industrial yard in Albany, New York, is available due to the cancellation of the Constitution Pipeline project. The line pipe is well-suited for a range of uses, such as pipe pilings for bridges, buildings, transmission towers and moorings, or as part of culverts, gas transmission or water pipelines, said Chad Farrell, Managing Director, Tiger Commercial & Industrial.
"All of this line pipe is double-submerged and arc-welded, with material test reports available for every foot," he said. "This sale presents a unique opportunity for commercial buyers looking to leverage the secondary marketplace to purchase line pipe manufactured by top-quality U.S. mills."
The line pipe on offer includes:
• 332,000 feet of 30-inch, X70, 0.529 wall;
• 177,000 feet of 30-inch, X70, 0.562 wall; and
• 1,700 feet of 30-inch, X70, 0.750 wall.
It has been several years since a comparable amount of unused, 30-inch line pipe has come on the market, Farrell noted, and because all of the inventory was domestically produced, it meets the federal Buy America requirements as well as those that are often in place for city, county or state contracts.
The sale partners have an on-site crew and front-end loader available to load the pipe onto buyers' trucks. Cutting and welding is also offered for dead lengths if needed. The yard where the material is stored includes an active rail spur and is also paved, which allows loadout even under wet conditions.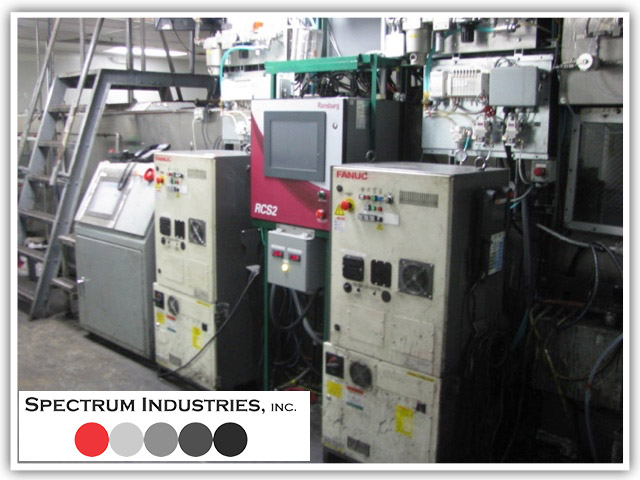 Tiger Group Sets Online Auction for Assets of Plastics Painting Plant
Tiger Group accepted bids on July 14 for a live online auction of selected assets to the continuing operations of Spectrum Cubic (a subsidiary of Spectrum Industries), a graphic decorating and painting company that services the plastics industry.
The auction, which got underway at 10:30 a.m. (EDT) on July 21 at www.bidspotter.com, featured Fanuc 710i and P-250 IB robots, a complete paint kitchen including 140 gallon day tanks, agitators, catalyst tanks with pumps, glutton pumps, spray booths. A wide variety of plant support equipment, as well as a parts conveyor, forklifts, racking and other materials handling items were also offered at auction.
Other key assets included a nitrogen generator, curing ovens, stainless steel parts washers, a UV curing system, hydro-graphic coating lines, a Ransburg RCS 2 two-component paint mixing system, an RO system, a thermo-oxidizer, a complete paint kitchen, stainless steel paint pots, and a freight elevator.
"This sale presents a rare opportunity for painting and finishing companies, process companies, metal finishing, production finishing companies and others to acquire a wide array of well-maintained equipment at auction prices," said George Laidlaw, Director of Business Development at Tiger's Commercial and Industrial division. "Notably, the facility's state-of-the-art paint robots can be repurposed for material handling or other applications, while its plant support and materials handling equipment is also suited to multiple industries."
Located at 13 McConnell St., SW, the 83,000-square-foot building is being redeveloped into office space by Grand Rapids-based Spectrum Industries. Operating multiple facilities in the Grand Rapids area, the privately held, second generation company employs nearly 300 people focused on the application of functional and decorative finishes to supplied metal and plastic components for numerous OEM markets.
"Spectrum is divesting from its traditional Hydro Graphics decorating technology to focus on RAYN Technology for applications in the interior automotive, large truck, office furniture and point of purchase product lines," said Laidlaw. "Tiger is pleased to have been selected by Spectrum to assist in the sale of its excess machinery and equipment."
To view the assets offered, visit www.SoldTiger.com.