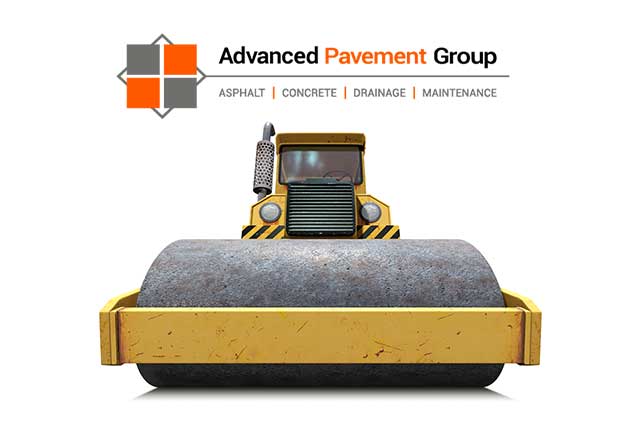 Tiger Group Online Auction on March 9 Features Heavy Equipment, Tools and Rolling Stock from Advanced Pavement Group
With assets located in Pennsylvania, New York, New Jersey and Delaware, the online- only auction includes milling machines, loaders, sweepers, rollers, excavators, dozers, trucks, shop equipment, parts and more.
Tiger Group accepted bids for a March 9 online auction of heavy equipment, paving equipment, trucks, trailers, and tools from one of the largest paving contractors in the Northeast: Advanced Pavement Group (APG). The assets are located at the company's sites in New Castle, Del.; Downingtown, Pa.; Millville, N.J.; and Islip, N.Y.
The multimillion-dollar liquidation was of particular interest to construction companies and contractors involved in roadwork, drainage projects, parking lot repairs, and road-salting/snow-removal. "GCs and specialty contractors also stand to benefit from auction pricing on tools and rolling stock," said Chad Farrell, Managing Director of Tiger's Commercial & Industrial Division.
"This is a large sale, with more than 650 trucks, trailers and heavy-equipment assets on offer, as well as hundreds of general and specialized tools and thousands of parts," Farrell noted. "In most cases, these assets are less than 10 years old and are in good condition. The timing of this sale couldn't be better, as March is the beginning of contractors' busy season—an ideal time to bolster the fleet and prep for jobs in the pipeline."
The available lots included:
• Marini and Bomag, milling machines
• LeeBoy and Midland Pavers
• Dynapac, Wacker, Caterpillar and Bomag rollers
• Caterpillar and Case loaders, excavators, dozers
• Tennant sweepers
• Vacuum sweeper trucks
• Salter and plow trucks
• Mack dump trucks
• Mack, Freightliner, and Peterbilt tractor trucks
• Utility and maintenance trucks
• Lowboy and equipment trailers
• Shop equipment
• Thousands of unused parts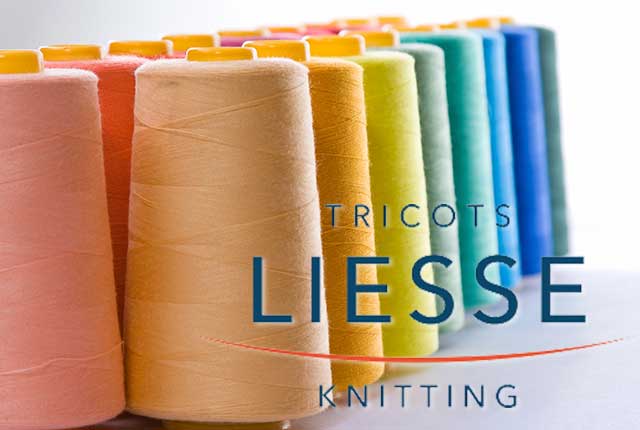 Tiger Group Online Auction On March 30 Features Advanced Knitting, Dyeing And Finishing Equipment From Montréal-Based Tricots-Liesse
Tiger Group accepted bids for the March 30 online auction of assets from one of the best-known knitting, dyeing and finishing operations in the North American textile industry—the 250,000-square-foot Tricots-Liesse plant at 2125 Lily-Simon.
The auction represented a rare opportunity to acquire state-of-the-art circular-knitting machines and dyeing and finishing equipment—including German- and Italian-made pieces like a solvent-scour machine by Sperotto and a relaxation dryer by Monforts, said John Coelho, Senior Director for Tiger's Commercial & Industrial division.
"Founded in Montréal in 1965, Tricots-Liesse grew to become the dominant domestic supplier of high-quality knits for the contemporary, swim and activewear markets, with a reputation for knitted textile fabrications, with and without Spandex," Coelho said. "In its manufacturing on behalf of a 'Who's Who' of brands—including Helmut Lang, Poprageous, Perry Ellis, Eileen Fisher and Nautica, to name a few—Tricots-Liesse was uncompromising in its use of top-notch, carefully maintained equipment."
An October 2018 profile of Tricots-Liesse in industry magazine BedTimes described its Montréal plant "as one of the most modern and efficient dyeing and finishing facilities in North America."
The equipment available in the auction included knitting machines and peripherals by Mayer, Monarch, Terrot, and Falmac, with an extensive parts inventory.
Dyeing machines included soft-flow, jet-dye, and sample-dye models from Thies, Then, Brazolli, Roach and Datacolor. Finishing and inspection equipment assets up for bid included calanders, dryers, slitters, milling and scouring, 72″ & 84″ roll-to-roll inspection machines and winders from manufacturers such as Monforts, Parks & Woolson, Pentek, Calator, Pernic, Bianco, Fadis and many more.
Specific highlights included:
Monarch FX-JS3 Mini Jacquard.(28 gauge/30" diameter, 72 feeds) and Monarch MX-JS3 Mini Jacquard (20 gauge/30" diameter, 72 feeds; new generation, 2018). Both offer quick change and setups and are equipped with Lycra feeders, with the ability to knit mini-Jacquard pattern constructions and single jerseys with Spandex.
Monarch F-LEC/2 Electronic Jacquard (28 gauge/30" diameter, available 48 and 72 feeds). Double knit, fully computerized, with USB Interface. This model offers quick change and set-up with Lycra feeders, with the ability to knit Jacquard designs, Ponte de Roma, Ottoman, ribs, interlocks and more.
Terrot SCC-4F-148 Electronic Single-Knit Jacquard (28 gauge/30" diameter, available 48 feeds) and Terrot SCC-572 Electronic Single-Knit Jacquard (28 gauge/30" diameter, available 72 feeds). Both are fully computerized and provide quick change and setup with Lycra feeders, with the ability to knit Jacquard designs, Ottoman, crochets and holding stitches.
Terrot UCC-548T, Electronic Double-Knit Transfer Machines (18 gauge/34" diameter, available 48 and 54 feeds). These assets offer 2-3 way technique capabilities, set-up with Lycra feeders and SFE Storage Feeders. USB Interface, Piezo selection units, and the capability of manufacturing double-knit Jacquards, ribs, interlocks ad more.
Terrot S296 Open-Width, Single-Knit Machinery (available in 28 gauge/30" diameter and 36 gauge/30" diameter, 96 feeds). These high-speed German-made machines are set up with Lycra feeders and capable of knitting open-width fabrics to eliminate center creases. Areas of application: swimwear, sportswear, safety wear and home textiles.
In addition, the auction offered material handling, plant support, test/lab and machine shop equipment. Specific items include forklifts and trucks, walk-behind pallet jacks, scissor lifts and air compressors, as well as boilers, lab ovens, color meters, light boxes and lab hoods. Manufacturers included Toyota, Raymond, Caterpillar, Uline, Cobico, CAT, Verivide, Datacolor, X-Rite and Gretag Macbeth.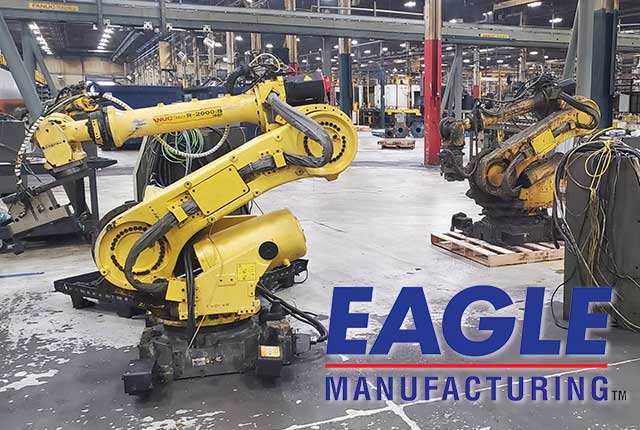 Tiger Group Online Auction on May 20 Features Machining Centers, Industrial Robots and Other High-Utility Assets
Tiger Group accepted bids on May 13 for the May 20 online auction of the remaining assets from Eagle Manufacturing's engine block-machining facility in Florence, Kentucky. The 300,000-square-foot metro Cincinnati plant was shuttered by parent company Linamar Corp. on April 19, 2021.
A wide variety of manufacturing and machining companies will find items of interest in the sale of this Tier-1 automotive supplier's remaining assets, said George Laidlaw, a Director of Business Development for Tiger's Commercial & Industrial division.
"In addition to machining centers, the auction offers a large number of highly adaptable material-handling robots, along with tooling, parts washers, and support equipment," Laidlaw noted.
Located about 12 miles from Cincinnati/Northern Kentucky International Airport, the well-located building may be available for lease or purchase, Laidlaw said.
The equipment on offer included Heller five-axis machining centers; Heller horizontal machining centers; and a Haas vertical machining center. The material-handling robots (about 40 in all), included models by Fanuc and ABB.
The assets also included a Midbrook engine block pass-thru washing system, as well as pass-thru part washers by Ransohoff, Proceco and Hafroy.
Other available equipment included coolant and chip-processing systems; air compressors; forklifts; air chillers and dryers, and gantry and job cranes.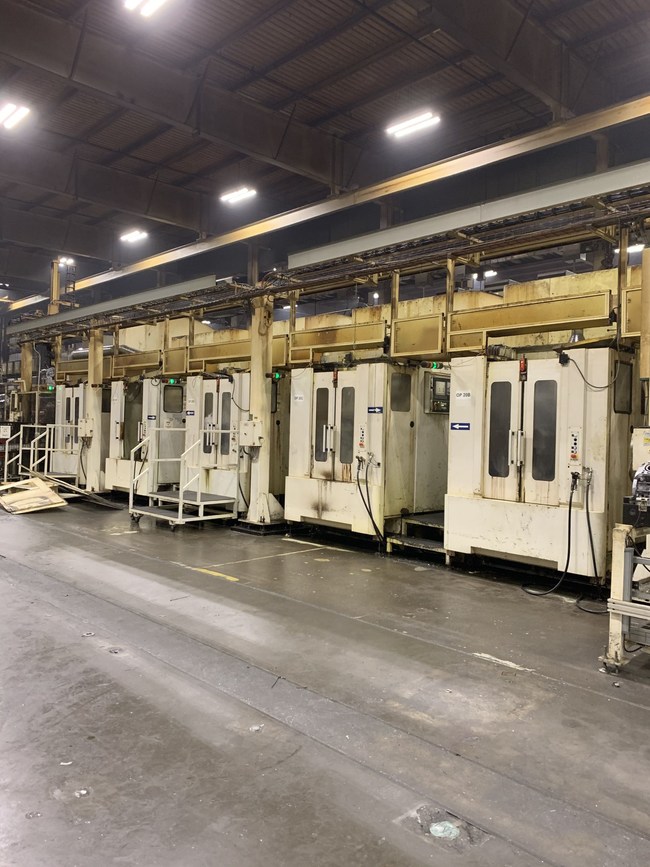 This five-axis, 2009 Heller MC 10 is among the machining centers available in Tiger's May 20 online auction of assets from Eagle Manufacturing's former plant in Florence, Ky.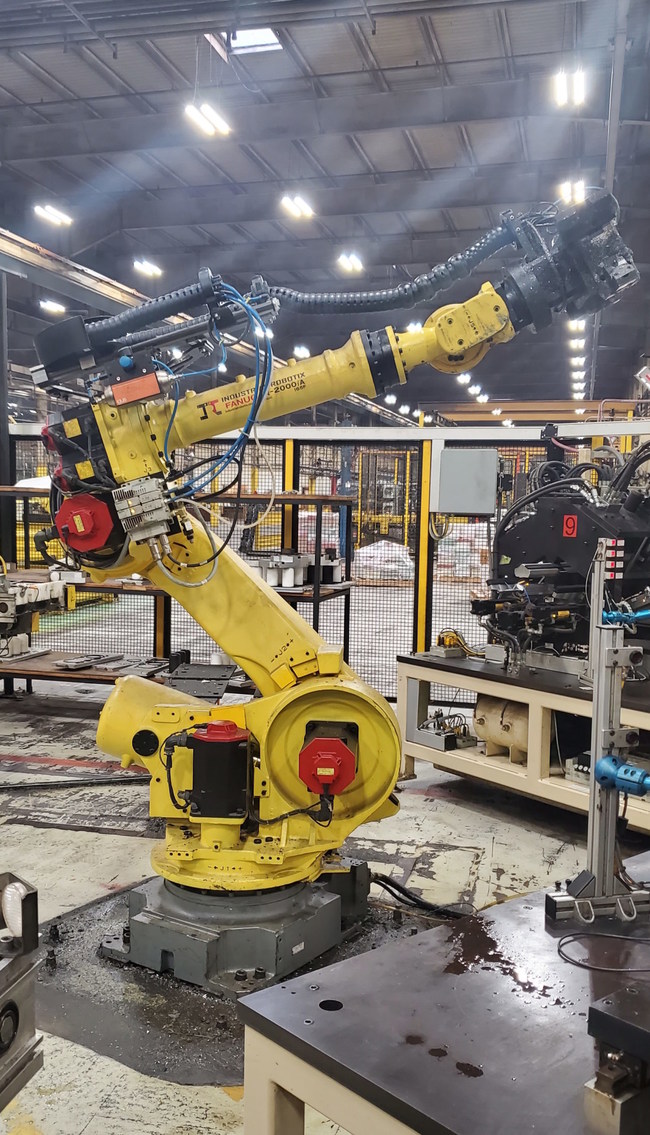 Other assets up for bid included approximately 40 material-handling robots, including this 2011 model from Fanuc.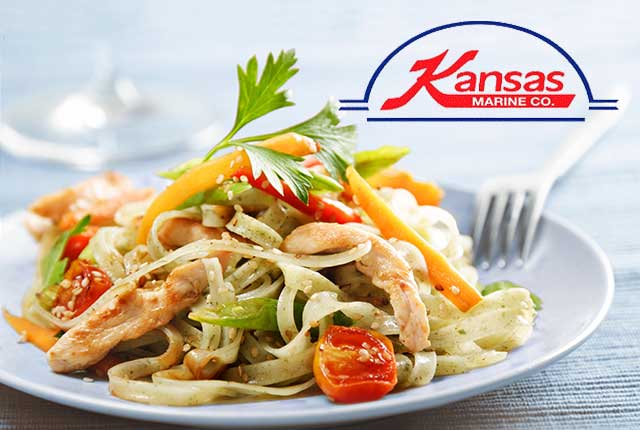 Tiger Group Auctions Frozen, Refrigerated, Dry Food Products from Cruise Industry Supplier
Tiger Group offered over $11 million (at retail) in commercial foods in a Feb. 23 online auction of the remaining inventory from cruise industry supplier Kansas Marine Co.'s Miami distribution center. The offering featured over 40 million pieces of consumable food items, including frozen products, canned goods, proteins, dry food products and bonded items.
"Tiger is excited to bring to market an expansive inventory from one of North America's largest food suppliers to the cruise industry. This auction provides a tremendous opportunity for cruise lines, hotels, restaurants, bars, institutional feeders, and food and beverage wholesalers/brokers to stock up on their inventories," said Jonathan Holiday, Director Of Business Development for Tiger's Commercial & Industrial division.
Featured items included appetizers, Asian seafood, bagels, bar mixes, base cream, beans, lentils, beverages, bread, bread mix, cakes, cake mix, candy, cereal, cherries, cheese, chips, chocolate, coconut, coffee and tea, coloring, condiments, cookie dough, cookies, cooking wine, couscous, crackers, crème brulee, croissants, dairy, deserts, dessert macarons, donuts, dough, dressing, eggs, extract, fillings, flour, fruit color, fruits, glaze, grits, honey, ice cream, jams, jelly, kosher products, meats, milks, muffin and pancake mixes, mousse, nuts, oil, olives, pasta, paste, pastry. pastry cream, peanuts, pie, pizza, potatoes, poultry, puree, rice, salt, sauce, sausages, seafood, seasoning, soup base, spices, sugar, syrup, toppings, tortillas, vegan products, vegetables, vinegar, waffles, and more.
Kansas Marine's Miami facility served the food and hospitality needs of major cruise lines for all US ports of call, while also shipping overseas to meet the ships at their respective ports.