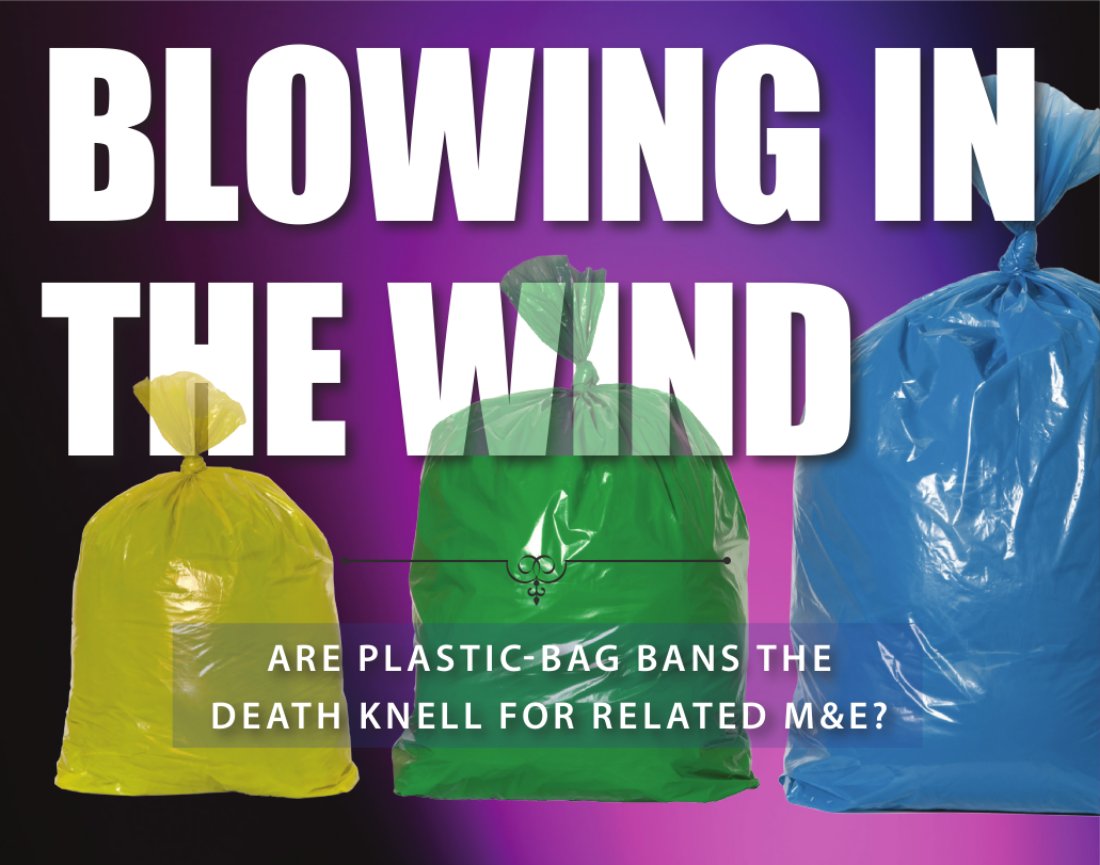 The global backlash against plastic bags — visible in the form of taxes and outright bans on grocery and merchandising bags made of blown-film plastic—threatens to undermine the recovery value of dedicated M&E in this sector. And it is worth noting that the production line equipment used to make these increasingly demonized products typically is no small investment: The latest versions of so-called bubble or tubular extrusion machines, which cool much faster than their predecessors and are thus more efficient and productive, can be worth $1 million or more.
Domestically, plastic-bag crackdowns have passed in, among other places, Los Angeles County, Seattle, Portland, Austin, San Francisco, Washington, D.C., and the entire state of Hawaii. The trend appears to have ongoing momentum: Earlier this year, for example, legislation was introduced to prohibit single-use plastic bags across the entire state of California starting in 2015. Internationally, restrictions are already in place in at least 20 countries. Even Islamabad, Pakistan, has soured on non-degradable plastic bags; its ban goes into effect in April 2013.
Why the uprising against a product that has been a fundamental part of shopping for decades now? When voters and politicians run across images of plastic bags dangling from trees, choking sea turtles or wafting out of garbage trucks, they naturally want to take action. And yet the emotions stirred by such visuals are much clearer than the facts. As environmentalists see it, plastic bags amount to a landfill-clogging crisis. But the industry says the actual contribution of plastic bags to the waste stream is 2 percent or less. Eco-minded critics also claim that it takes a huge amount of oil and gas to make and transport the bags, while the industry says the bags are neither oil-based nor a big factor in climate change.
For appraisers, the challenge here is to zero in on opportunities — to identify those items that will still hold the potential for a mild or strong recovery in spite of the bans. A sharp-eyed team can look past dedicated equipment like bag-forming machines, separators and packagers to those production pieces that are more universal and would be of interest to users in other industries. Typically, this universal M&E will fall into three categories: the production line's terminal equipment, which, with retooling, can be used for other applications; auxiliary equipment; and what might be thought of as general support equipment.
The terminal equipment includes extruders — the main component in the line — as well as winders. Extruders can vary widely in cost and potential recovery value. The limiting factor for the output of these machines has long been the speed with which they could be cooled. As mentioned, the latest-model versions certainly carry higher resale values because they can be cooled quickly and are therefore much more productive. But there are some other, potentially important specs as well: With a bit of retooling, extruders can be used to make a variety of other products, including plastic film and sheeting as well as profile extrusions such as moldings, trim products, pipe tubing and insulation for wire and cable. Likewise, winders can sometimes be reapplied to the likes of textile products or plastic sheeting.
Auxiliary equipment would include any number of grinders, hoppers, vacuum loaders, dehumidifiers, temperature controllers or even robots, while general support equipment could include things like chillers, cooling towers, vacuum pumps, air compressors and boilers. The potential collateral value of this universal M&E has the potential to be substantial — so much so that even the widespread imposition of plastic bag bans would not totally decimate the recovery value of M&E employed in these facilities.
Still, it is a good idea for lenders and appraisers to keep an eye on the bag-banning trend. Today, the environmentalists seem to be on top. However, two countervailing trends stand a chance of coming to the rescue of the blown-film plastics segment. One has to do with the economic impact of the bans; the other is related to public health.
In February, the trade magazine Plastics Today reported on a study from the National Center for Policy Analysis purporting to show significantly adverse economic effects resulting from the bans (specifically, that bans on "plastic bags used by grocers and retailers can negatively impact sales in the ban area and increase sales among stores just outside the bag ban region"). The NCPA surveyed 80 large supermarkets and other stores in Los Angeles County, where a ban took effect in July 2011, and matched those locations with other stores in nearby areas unaffected by anti-bag prohibitions. "During a one-year period, before and after the ban, the majority of stores surveyed in areas with a ban reported an overall average sales decline of nearly 6%," the magazine reported. "While the majority of respondents surveyed in areas without a ban reported an overall average sales growth of 9%."
Those who would fight the bans also claim that the U.S. plastic bag manufacturing and recycling sector employs more than 30,000 workers in 349 communities across the country. They additionally point out that reusable bags are frequently imported. But for the most part, such arguments lack the emotional zing of, say, a news report about a "Rhode Island-sized" island of plastic bags floating in the ocean. Fortunately for the plastics industry, however, the public health argument against turning to reusable bags is indeed one that packs an emotional punch. The "yuck factor" here is already making some consumers think twice about the wisdom of using the same shopping bag over and over again.
As noted by the conservative columnist Ramesh Ponnuru, researchers who put reusable bags from California and Arizona under the microscope found that 51 percent of them contained coliform bacteria. "Seventy-five percent (of reusers) said they keep meat and vegetables in the same bag," Ponnuru writes. "When bags were stored in hot car trunks for two hours, the bacteria grew tenfold." Meanwhile, research by two professors uncovered that emergency-room admissions related to E. coli infections increased in San Francisco as soon as the city adopted its ban. The professors even claim that the city's ban led to a 46 percent increase in deaths from food borne illnesses.
If this kind of reporting continues, it could conceivably lead to a backlash that slows or reverses the trend toward plastic-bag bans. Unlikely, but possible.
When it comes to collateral values, meanwhile, an asset-based lender might consider keeping an eye on a different, but related, category of M&E. As noted in a February report by energydigital.com, the aforementioned Islamabad ban prohibits disposable plastic products made of polyethylene, polypropylene or polystyrene. But it does not cover so-called oxo-biodegradable plastic bags, which over time convert into water through exposure to sunlight, oxygen and heat. Today, several companies are racing to perfect these products. If one of them develops oxo-biodegradable bags that are a viable replacement for blown-film, then all of the inventory and M&E related to this advanced alternative would, of course, be every bit as useful and valuable as that which came before it.